8 March 2018
To mark International Women's Day 2018, First Minister Nicola Sturgeon visited Tribe Porty, a Portobello-based social enterprise which is piloting a women in enterprise project – the Tribe Women Enterprise School, with support from the Scottish Government.
FM @NicolaSturgeon visited women's social enterprise @TribePorty on #IWD2018 and announced #FirstMentor initiative will run again in 2018. @ScotGovFM also called for other women leaders to follow her example and pledge their time to mentor a young woman: https://t.co/47lKEhHv4Y pic.twitter.com/vLVwgJVvOs

— First Minister (@ScotGovFM) March 8, 2018
Happy #InternationalWomensDay! @ScotGovFM @NicolaSturgeon: "#IWD2018 is a great opportunity to celebrate women's achievements, but it's also a day to remind ourselves of the progress that still needs to be made."#FirstMentor #PressforProgress pic.twitter.com/4W1f4SDZIy

— First Minister (@ScotGovFM) March 8, 2018
Great visit to @TribePorty ahead of #IWD2018 – thanks to all for the lovely warm welcome and for the great work you do.

— Nicola Sturgeon (@NicolaSturgeon) March 7, 2018
On that occasion, FM announced that the 'First Mentor' initiative, which gives a young woman aged 18-23 a chance to be mentored by the First Minister, will run again in 2018. Following the success of the 2017-18 opportunity, a new round of applications will open today.
The First Mentor opportunity is a joint initiative by the Scottish Government and Young Scot.
Absolutely thrilled to be working with @NicolaSturgeon @ScotGovFM on #FirstMentor programme once more. An incredible opportunity for young women across Scotland. #IWD2018 #PressForProgress #HelpHerBe https://t.co/e0SYDlvjmy

— Louise Macdonald (@Louisemac) March 8, 2018
To enable more young women to benefit from the programme, Scottish Chambers of Commerce have committed to match some of the shortlisted candidates with mentors in their network.
On #IWD2018, we are delighted to support & partner with #FirstMentor initiative: matching young women with the talents of our pool of Scottish businesswomen @NicolaSturgeon #PressforProgress https://t.co/DtAl4SuzBE

— Scottish Chambers (@ScotChambers) March 8, 2018
The First Minister said:
"Through the 'First Mentor' initiative I have the pleasure of mentoring Charlotte Liddell, a young mum of two from Fife. Seeing her grow in confidence and discover her potential in the past few months has been a truly enriching experience, and she has also taught me a lot by giving me a new perspective on the many issues affecting young people today. That is why I have decided to extend the 'First Mentor' initiative and look for a mentee again this year, with the help of Young Scot.
Ms Liddell said:
"Through this mentorship programme, I've been given opportunities that I had only ever dreamt of. Too often, young people are told they will never amount to anything – especially young parents. This mentorship has inspired me to help other young people to believe in themselves – especially those whose voices are not heard."
During her visit to Tribe Porty, the First Minister also called on other women in leadership roles to join her by pledging to give some of their time to help a woman or girl achieve her goals.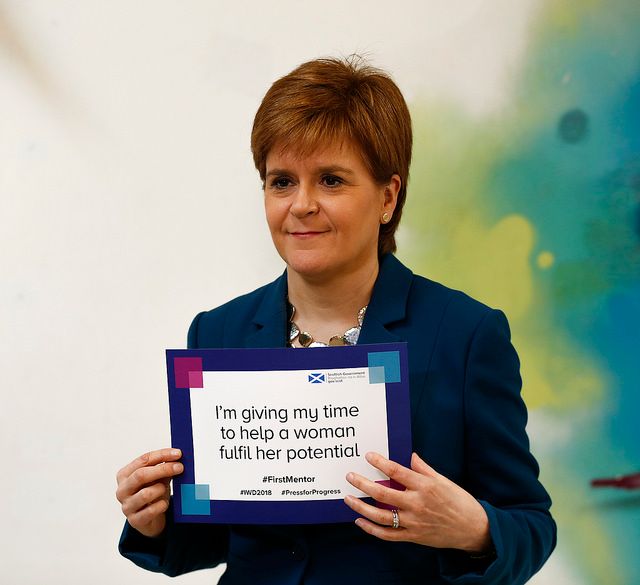 The First Minister said:
"I am also calling on other women in leadership roles to join me. Not just Chief Executives or Chairs of big organisations, but any woman who feels that she has something to offer. By giving our time and sharing our experiences, we can support a new generation of women to reach their potential, and learn from them in return."
Download the #FirstMentor pledge card, join other women leaders and show your support!
See who is backing the initiative here.
Having first addressed the Association of Women in Property's Central Scotland branch ten years ago, Homes for Scotland chief executive Nicola Barclay reflects on her journey since then. #IWD2018 #FirstMentor @H_F_S @HFSnicola @WiPCentScot https://t.co/U1cfCMR09T pic.twitter.com/cRLVdDXYc6

— Scottish Housing News (@ScotHousingNews) March 8, 2018
Happy #InternationalWomensDay ! Our Director @jenanglaw is grateful for the strong, brave, smart women who came before us, and walk with us now, and pledging to support another woman in #Scotland to fulfil her potential. #FirstMentor @NicolaSturgeon #PressforProgress #IWD2018 pic.twitter.com/7Lgf6dG3u3

— JustRight Scotland (@justrightscot) March 8, 2018
I've done this throughout my career, so proud to be making my pledge today to mentor even more young women as part of the @ScotGovFM @NicolaSturgeon #FirstMentor programme #IWD2018 #NACWG #PressForProgress #HelpHerBe pic.twitter.com/XsUbFp9m9J

— Louise Macdonald (@Louisemac) March 8, 2018